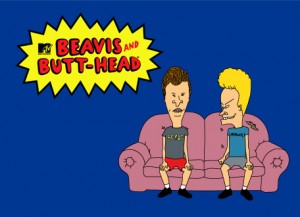 For over a decade, perennial slackers Beavis and Butt-head have lived in television viewers' consciousness only in the form of reruns. On October 27, that will change as Beavis and Butt-head return to MTV with new episodes. But not in the exact form previous viewers will remember.
Due to licensing restraints, the boys will be showing and commenting on far fewer music videos than fans of the original run of the show are used to. In fact, the show's new episodes have been delayed for about six months, due in part to licensing issues for music videos.
An integral part of the original shows was Beavis and Butt-head watching music videos and providing commentary on each. Though this will occur in the new version of the series, the videos will play a much less prominent role. Instead, the two dim-witted cartoons will comment on other current MTV shows like Jersey Shore, 16 and Pregnant and Teen Mom. Additional topics of critique will be current fads such as vampire movies and television shows, as well as UFC fights.
Creator Mike Judge remains the driving force behind the show, and did confirm that the show has obtained licenses to use videos from music artists such as MGMT, Yolanda Be Cool and T-Baby. Judge also said he was hoping to get clearances to use a Lady Gaga video.
Like many other television shows, Beavis and Butt-head had trouble in the past obtaining licenses when issuing the show on DVD. The first volume of the show released on DVD cut many music videos because of clearance restraints, though later releases contained most of the original videos.
Beavis and Butt-head originally aired on MTV from 1993 through 1998, and the show also was adapted into a movie, Beavis and Butt-head Do America, in 1996.
Judge also announced that in the new incarnation, the animated style will remain the same and the boys will remain the same age they were in the original run. The Metallica and AC/DC T-shirts also will remain, of course.