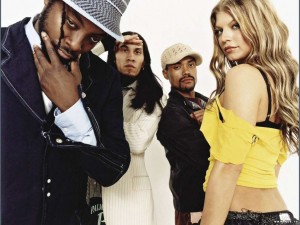 Though it may be hard to believe after seeing them play their polished rap-pop to 111 million viewers at this year's Super Bowl (the largest television audience ever!), the Black Eyed Peas actually began their career in the early 1990s as part of the Gangsta rap movement emerging from Los Angeles at the time. However, it was clear from the beginning that the group was going to be different. Ruthless declined to release the group's first record (recorded under the name Atban Klann) because it felt the positive nature of the lyrics didn't fit with the violent themes hip hop was then known for.

After changing its name to the Black Eyed Peas, the group signed to Interscope and made steadily increasing sales throughout the late 1990s. It wasn't until Fergie joined the group in 2001, however, that they received substantial mainstream success. Propelled by the hit "Where is the Love?," the group's third album Elephunk—it's first with Fergie—has gone on to sell 8.5 million copies worldwide. Since then, the Black Eyed Peas have had continuously rising sales, becoming only the 11th artist to hold both the #1 and #2 spot on the Billboard Hot 100 at the same time.

The moral of the story? Don't let label rejections get you down. The Black Eyed Peas always charted their own path musically, and though it took years of work, they found the record label contracts that worked for them and how they wanted to make music. It was a path that lead to perhaps the largest audience a group could ever achieve.