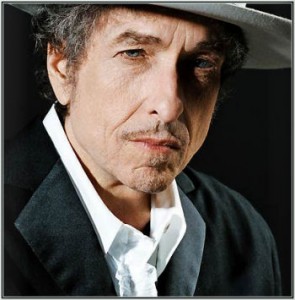 If one thing has held constant over the years about Bob Dylan, it's that he will always do the opposite of what people—his fans or otherwise—expect him to do. Last week, in an uncharacteristic move for the notably private songwriter, Dylan posted a personal letter to his fans on his website claiming that no songs were censored during his recent concerts in China. The message addressed a debate raging for over a year where he had been accused of going to the country purely for the money and shunning his roots as a protest songwriter.
In April, the man once heralded as the spokesman of his generation for his protest songs of the early 1960s played two dates in China, a country long known for its unwelcoming attitude against western pop artists (assuming they were not banned outright). A multitude of newspaper columns popped up nearly immediately, condemning Dylan for neglecting to play his songs like "Blowin' in the Wind" and "Times They Are A-Changing" and claiming he succumbed to Chinese government ordered censorship of his set list. In one of the most harsh articles titled "Blowin' in the Idiot Wind," the New York Times' Maureen Dowd said Dylan had "broken creative new ground in selling out."
Dylan's message, however, stands to correct the record, saying that though the Chinese government did ask him for the names of songs he would be playing, there were no directives issued as to what could or could not be played. "If there were any songs, verses or lines censored," he said, "nobody ever told me about it and we played all the songs that we intended to play."
He goes on to address the fact that the controversy concerning him playing in China has been raging for about a year, when it was announced he would be playing shows there, quickly followed by reports that he had been denied entry into the country.
"This was all drummed up by a Chinese promoter," he wrote, "who was trying to get me to come there after playing Japan and Korea." He goes on to state the Chinese press touted him as a sixties icon and posted pictures of him with Joan Baez, Jack Kerouac and Allen Ginsberg.
Rock music has long had a tumultuous history with China. Though there was an underground rock movement in the 1980s, the interest was seemingly all but squashed by the events at Tiananmen Square in 1989. Up until the last decade, nearly no Western acts played shows in the country.
This trend, however, seems to be changing. In the past 10 years China has opened its doors—and fans have opened their ears—to a multitude of rock and pop artists. Acts as diverse as Linkin Park, Talib Kweli, Eric Clapton and the Yeah Yeah Yeahs have all performed concerts in China during the past few years, opening up a relatively new but still curious—and sometimes derided—venue for Western artists.