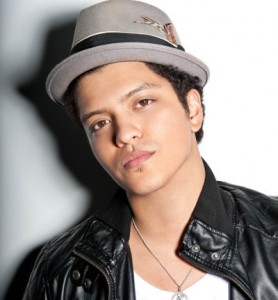 Bruno Mars is suing his publishing company, Bug Music, claiming that his contract has been terminated.
The lawsuit, filed in Los Angeles, claims that the publishing company failed to exercise its option to extend Mars' agreement at the beginning of April by not responding to his notice of termination in a timely manner. Bug claims they did respond in time, which would mean Mars is still under a contract with the company, giving Bug 50 percent ownership of all the singer's songs.
Bug music will retain the rights to all songs created under the current agreement, though if Mars wins the lawsuit, he will be able to enter into a new publishing agreement.
Bruno Mars' debut solo single, "Just the Way You Are," spent a record 20 weeks on top of Billboard's Adult Contemporary chart. Doo-Wops & Hooligans, the album that single was taken from, has gone on to sell over one million copies.
Mars made his name writing and producing hits at the end of the last decade for artists like Flo Rida and Brandy before releasing his solo debut. The diverse artist has been described as mixing genre's to produce his own unique style of pop.