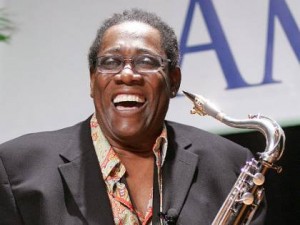 The Big Man, otherwise known as legendary E Street Band saxophonist Clarence Clemons, died Saturday, June 18, due to complications from a stroke suffered a week earlier, reports Jon Landau, E Street Band leader Bruce Springsteen's manager. He was 69 years old.
Clemons largely entered into the public consciousness in 1975 when he appeared with Springsteen on the now-iconic cover image of the latter's Born to Run album. That album catapulted Springsteen into a stardom that landed him on the cover of Time and Newsweek in the same week. Though Clemons had been playing with Springsteen since 1972, his sax playing became noted as an integral part of the sound of the band as the Boss gained widespread notoriety.
And for almost four decades, Clemons continued to define the Springsteen sound, with saxophone solos like the one on Born to Run's "Jungleland" being among the most recognized portions of Springsteen's song. Playing live with the E Street Band through their most recent tour last year, Clemons was a perennial favorite, usually introduced to excited audiences as the "Big Man" following the rest of the band introductions.
In addition to his work with the E Street Band, Clemons also released several solo records and contributed to the works of many other artists. Most recently, he contributed saxophone on two tracks on Lady Gaga's recent hit Born This Way: "The Edge of Glory" and "Hair."
In 2009, Clemons published his autobiography, Big Man: Real Life & Tall Tales, co-written with Don Reo. Part of the book detailed the painful toll touring in the past decade took on his body due to back and knee problems, as well as the extensive nightly regimen he had to perform to be physically able to go onstage. In the past year he had undergone back surgery, as well as two knee replacements.
Bruce Springsteen released the following message via his website the day Clemons passed:
Clarence lived a wonderful life. He carried within him a love of people that made them love him. He created a wondrous and extended family. He loved the saxophone, loved our fans and gave everything he had every night he stepped on stage. His loss is immeasurable and we are honored and thankful to have known him and had the opportunity to stand beside him for nearly forty years. He was my great friend, my partner, and with Clarence at my side, my band and I were able to tell a story far deeper than those simply contained in our music. His life, his memory, and his love will live on in that story and in our band.
On the Sunday following his death, fans packed the Stone Pony, the Asbury Park, N.J. club where the E Street Band played many of their first shows, to pay tribute to Clemons.