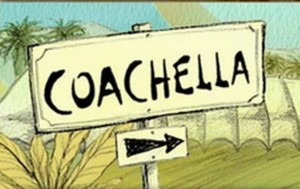 Tickets for this year's version of the Coachella Music and Arts Festival sold out in less than three hours, the festival's organizers reported on Friday. While this number would be impressive for any year of the festival – more commonly known simply as Coachella – it's even more extraordinary this year.
While the festival is usually held over one three-day weekend, this year's gathering will take place over two three-day April weekends in the desert of Indio, Calif. And as an attempt to give more fans the chance to see their favorite artists, each weekend will feature the exact same lineup. To get a better idea of why the three-hour figure is so significant, consider the fact that last year's festival, a one-weekend event, took six days to sell out.
All of this goes to illustrate the continually rising popularity of the already successful festival. Billboard reports that Coachella was the world's top grossing festival in 2011, earning a gross of $24.9 million. That number is up from $21.7 million the previous year. In 2011, the festival drew 75,000 music fans per day, with an aggregate attendance total of 225,000.
As usual, the 2012 Coachella festival boasts a stellar lineup, and will be headlined by Radiohead, the Black Keys and a joint performance by Dr. Dre and Snoop Dogg. But the festival has been making additional headlines for its power to bring bands back together.
Texas rock band At the Drive-In went through an apparently nasty breakup at the height of their success back in 2001. In the intervening years, some members went on to have a successful career with the Mars Volta, and almost any former At the Drive-In member that spoke about the band suggested that a reunion was unlikely. But the day before the Coachella lineup was announced, the band posted a not-so-cryptic Tweet that suggested a reunion and, sure enough, they were listed on the Coachella lineup the following day.
British band Pulp is another band that will have a reunion of sorts at the festival. The band played a few U.K. festival dates last year after lead singer Jarvis Cocker released two solo albums, but the band will play its first American dates as a reunited group at Coachella.
The indie-music set has been abuzz after the announcement that Jeff Mangum will play this year's festival. The reclusive former frontman of Neutral Milk Hotel has been rarely been seen playing live music since walking away from the band in 1998 shortly after its most well-known album, In the Aeroplane Over the Sea was released. Aside from a few solo shows late last year, little has been heard from Mangum in recent years.
And finally, the schedule is rounded out as always by an eclectic lineup that includes big names like David Guetta, Arctic Monkeys, Feist, Bon Iver and Florence + the Machine.