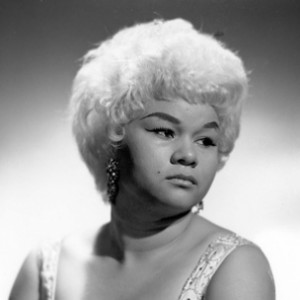 In the days following legendary singer Etta James' passing on January 20, Facebook pages and blogs were filled with YouTube videos of the singer's best known songs like "At Last," "Something's Got a Hold On Me" and "Tell Mama." But, in a move that is telling in today's struggling music industry, this was not the only thing James' death inspired. Actual sales went up, as well.
Billboard reports that the singer's death, at age 73, prompted her highest sales week ever. The Best of Etta James – 20th Century Masters: The Millennium Collection rose to number 46 on the Billboard 200 albums chart, with 8,000 sold, according to Nielsen SoundScan. In the week used to track those sales, only two days were after she passed away. Her previous highest-charting album was At Last!, which peaked at number 68 in 1961.
Moreover, that same week, total sales from her catalog were at 30,000, which represents a 378 percent increase from the year before. Total digital sales were up to 118,000 songs, with more than half of those coming from purchases of digital copies of "At Last."
But this is not a new trend emerging with James' death, and sales numbers have traditionally risen when artists pass away. However, with the readily available subscription services – in addition to sites like YouTube and the prominence of illegal downloads – it is refreshing that music fans are going out and buying (or purchasing downloaded) records to support the legacies of these artists.
One of the most prominent examples of a sales bump after the passing of an artist was when Michael Jackson died in 2009. A TIME magazine article commemorating the year anniversary of the King of Pop's passing reported that in the year since he died, Sony Music sold 31 million Jackson albums. That came after a huge sales increase immediately following his death – nine million of those albums were sold within three weeks of his death, according to the Los Angeles Times.
But death is not the only thing that will inspire a sales bump. Any number of factors can spark record sales, like when former "American Idol" Kelly Clarkson saw sales increase after she voiced support of Republican presidential candidate Ron Paul through her Twitter account.
Even President Obama got in on the action. At a recent event at the New York's Apollo Theater, the president paid tribute to Al Green, who was in the audience, by singing a few bars from the classic soul singer's hit, "Let's Stay Together." The song sold 16,000 downloads the following week, which represents a 490 percent increase from the week before.
While all of these events likely would have caused sales bumps for the respective artists at any time, the news of recent sales spikes correspond with a recent trend of the entire music industry showing improvement recently. With complete 2011 sales numbers slowing being revealed, it appears the music industry is slowly beginning to work towards progress in sales numbers.