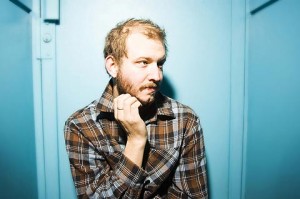 Indie folkie Justin Vernon, the man behind the moniker Bon Iver, gained notoriety by posting the entirety of his first album, For Emma, Forever Ago, on MySpace back in 2007. Last week, his entire new album, Bon Iver, Bon Iver, was also posted online, though this time it was not done purposefully.
Last week, "Calgary," the first single from the album, was posted to iTunes as the lead single for the album, which has a release date of June 21. However, due to a mistake, the entire album was posted to iTunes, the United States' largest online music retailer. Though the album was quickly removed from the iTunes store, some customers were able to prematurely download the record, which sparked a more widespread leak of the album.
Vernon became a household name in the indie rock blogosphere after the self-released For Emma was lavished over on sites like Pitchfork. Perhaps more known than the minimalist and somber folk music itself was the story of the creation of the record, which reached nearly myth-like proportions.
Following a break-up with his girlfriend, as well as his North Carolina alt-country band DeYarmond Edison, Vernon contracted mono and moved back to his home state of Wisconsin, where he isolated himself in his father's upstate cabin for the duration of the winter. Though he went to the woods to recover from his disease, Vernon had some recording equipment with him and began to record what would become For Emma. Using a basic set-up of only an acoustic guitar and drums, Vernon overdubbed instruments and vocals until he had a record that he never intended to release. Upon encouragement from friends that heard the album, however, he self-released the album (with the story of its creation), and a buzz began to grow almost immediately.
Bloomington, Ind. indie label Jagjaguwar eventually signed Vernon and re-released For Emma, where it made a splash not only on indie minded blogs, but in some mainstream press, as well. Since then, Vernon's career has snowballed, and Bon Iver, Bon Iver, is one of the most anticipated releases so far this year.
After allowing Kanye West to sample part of the track "Woods" off his 2009 EP Blood Bank, Vernon later co-wrote and was featured on two tracks, "Monster" and "Lost in the World," from West's 2010 record My Beautiful Dark Twisted Fantasy. Vernon also contributed the song "Roslyn" along with St. Vincent to The Twilight Saga: New Moon soundtrack, as well writing a song for the Dark Was the Night benefit compilation.
Releasing albums free on the internet is what got Vernon his start with Bon Iver, though with the high anticipation for his new album, Vernon may have different thoughts on the matter this time around.