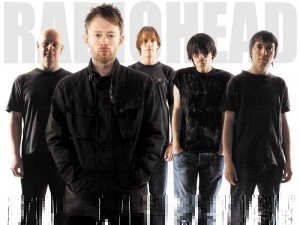 Lately, Radiohead have seemed to be a band taking all measures necessary to find ways around a sinking major label record industry, but the release of what they call the world's first "newspaper album" seems out of left field, even for them.

King of Limbs, the eighth full-length for the Oxford band, was released digitally on February 18, 2011 (only four days after it was announced that there would be a new Radiohead record), with a physical release today in the United States. However, today also saw the release of "The Universal Sigh," a free newspaper containing art created by the band that was distributed to selected locations across the world. All of this precedes the forthcoming "newspaper" edition that will be released May 10, which according to the designer will contain not only vinyl and CD copies of the record, but also 625 pieces of small artwork, similar to a Sunday paper filled with circulars.

Additionally impressive is the fact that the album is self-released on the band's Ticker Tape label (though TBD, XL and Hostess Entertainment will handle distribution in the U.S., the United Kingdom and Japan, respectively). Radiohead started as a band named after a Talking Heads song that got lumped into Nirvana's grunge scene in the early 1990s when they signed to EMI and "Creep" became a hit single. They went on to gain widespread critical and commercial acclaim through subsequent records, and went "indie" as one of the biggest bands in the world when they released their seventh record, In Rainbows, with no label behind them. That record's "pay what you want" approach showcased the fact that even the biggest bands can make money by self-releasing material on the Internet.