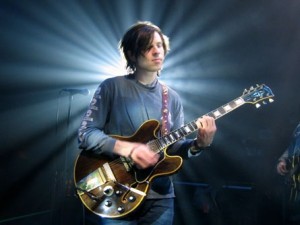 Ryan Adams and Wilco, two stalwarts of the alt-country scene, have both independently released albums on their own respective labels for the first time. Adams' Ashes and Fire came out today on his Pax Am label, while Wilco's The Whole Love was released last Tuesday on the band's newly formed dBpm Records label. While both have secured distribution through larger labels, with Wilco going with large indie ANTI- and Adams sticking with major labels and signing a deal with Capitol, the artists represent a new trend of established artists self-releasing albums.
Ashes and Fire represents Adams' 13th studio album and his first major release since completing his contract with Lost Highway records, a subsidiary of Universal Music Group. Produced by the legendary Glyn Johns (Rolling Stones, the Clash, the Who), the album is a relatively mellow record filled with acoustic guitars that harkens back to his first solo record, 2000's stark masterpiece Heartbreaker.
Adams had a widely publicized tumultuous relationship with Lost Highway, who at one time refused to release the record he submitted as his third solo record, Love is Hell. After widespread internet leaks, the company finally consented to fans' demand for the release, but not after releasing the inferior Rock N Roll first. Pax Am was formed shortly after the singer's Lost Highway contract ended, and released a few singles and internet only albums before signing a distribution agreement with Capitol for Ashes and Fire.
Wilco, also no stranger to record label woes, formed dBpm Records after their contract with Nonesuch expired following the release of 2009's Wilco (The Album). Fittingly, the first single released by the label, "I Might," contained a cover of Nick Lowe's ironically titled "I Love My Label" as a B-side.
The Whole Love marks the Chicago band's eighth studio record, not counting two releases with Billy Bragg of Woody Guthrie songs and one live album. It's also the third released with Wilco's current lineup, the most stable incarnation in the group's rocky history (singer/songwriter Jeff Tweedy and bassist John Stirratt have been the only constant members). Though the previous two releases have been somewhat straight forward alt-country affairs, The Whole Love finds the group occasionally veering more into the somewhat experimental territory that marked the group's most critically acclaimed records (1996's Being There through 2004's A Ghost is Born).
Thoroughly documented in the documentary I Am Trying to Break Your Heart: A Film About Wilco, the band's 2001 record Yankee Hotel Foxtrot was famously rejected by their label, Reprise Records. In response, Wilco negotiated out of the contract with Reprise, taking the rights to Foxtrot with them, and signed to Nonesuch Records, where the record was eventually released and has become the best-selling Wilco album to date. After the Nonesuch contract expired, Tweedy was quoted as saying that in the current state of the band, it made sense to self-release the album and use ANTI- for distribution than to try and find another label.
Both artists are now a part of a group of bands seemingly spearheaded by Radiohead that use an established fanbase as leverage to self-release records and effectively bypass much of the traditional music industry. Of course, distribution is still a key element in getting the albums to the public, and outside help is required for that aspect. Self-releasing is obviously not just for small DIY types these days, and it's a trend that most likely will continue to evolve in the ever changing music industry.