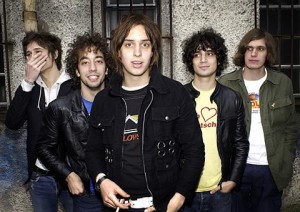 In the crowded and popular ocean that is the South By Southwest Festival 2011, Austin's streets and stages are swimming with artists like Janelle Monae and B.o.B.—along with movie stars like Billy Bob Thornton. So, a decade after their heyday, it may be surprising to learn that the biggest splash in Texas is being made by the Strokes, as their new album, Angles, and subsequent tour—including SXSW—marks the New York band's "reunion," of sorts.

Reunion may not be the best description, as the band never really disbanded, but in the five years since 2006's First Impressions of Earth, all but one band member have made solo records or albums with side projects. All of it's a far cry from the massive media hype that preceded the band's first record, Is This It?, which contained their biggest hit to date, "Last Nite." As part of the early 2000s garage rock revival that included the White Stripes and the Hives, the Strokes made headlines when, after considering many indie record offers, elected to go with major-label RCA—though still eschewing million dollar studios to produce a decidedly lofi debut album (reportedly against the wishes of RCA). Also released on RCA, the jury's still out as to whether Angles can recapture some of their past DIY glory.

In related news, SXSW officials have already begun speaking of limiting free shows in future years of the festival in response to a few violent incidents being reported—at least one from the Strokes show.