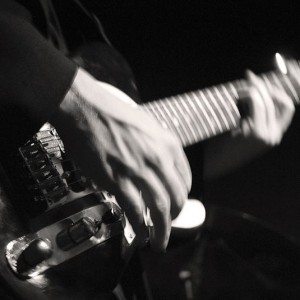 On the one hand, it's just cool. To see your name or band name on a t-shirt or concert poster carries a certain amount of gratification in and of itself. But on the other, more important hand, merchandising can be one of the most important things you can invest in as an artist.
It's no secret that record sales have been declining for quite some time now. This has resulted in record contracts that are more favorable to the record companies and, consequently, decreased revenue for artists. Bands are turning to a variety of sources to increase their income streams, such as licensing deals and streaming music sites like Spotify. But merchandising has been a constant source of income for bands for decades, even when record sales were soaring.
In addition to increasing revenue, having desirable merch than your fans want to buy also helps your band image and helps spread your name to more people. Here are three reasons that merchandising is so important.
It's All Yours
Unless you've signed a 360 record deal that gives a record company a cut of your merchandising sales, then you usually get to keep every cent that is spent on the t-shirts, posters and whatever else you've got set up on your merchandising table.
Of course, to be able to make that money, you've also got to spend money. Since you get all the cash from merch sales, you also have to fork over the money for the merch up front, which can be difficult, especially for younger bands.
But there are ways to cut costs. I was in a young band many years ago, and we bought cheap t-shirts and painted our band logo across the front of them. These didn't look like professionally made shirts, but we promoted them as one-of-a-kind DIY shirts for fans, which thought it was cool to have a shirt that no one else had. We then used the money from those shirts to have a set of shirts professionally made (and many of the fans that bought the original shirts bought the new shirts, as well!).
A great way to get well-designed posters is to ask your graphic design friends to help out. Many times, these friends will be glad to help you design a great poster that you can sell and they can use in their portfolio.
Free Advertising
When a fan purchases a t-shirt with your band logo on it, they are essentially paying you to advertise your band for you. When they wear the shirt, anyone they come into contact with throughout the day gets to read your band logo. The same goes for anything else you put your band name on and sell.
Connect With Your Fans
While the biggest bands obviously don't sit at their own merchandise tables – opting to let hired hands perform that task – you can use the opportunity to make personal connections with your fans. If you have a merch table set up at a show, you can head there after your set. When the fans that were impressed with your music come back to buy the CD or a shirt, you get a one-on-one interaction with them that you likely wouldn't get otherwise.
All in all, spending the money on your merchandise is one of the best things you can do for your band. Even if you've been established for a number of years, the merchandise is a continuous stream of income that you shouldn't overlook.