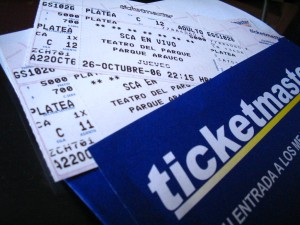 Anyone who used Ticketmaster's website to buy tickets between October 21, 1999 and October 19, 2011 is eligible to receive a refund as part of a class action suit settlement against Ticketmaster, because the company did not disclose the fact that it was profiting from processing fees.
The amount of that refund, you ask? A staggering $1.50. And you can claim it for up to 17 orders. If you happened to have used the expedited delivery service offered by UPS during that time, you can claim an extra $5 per ticket.
Both credits will be issued in the form of vouchers, so no cash will be given out—and you can only receive two at a time. Even the vouchers have stipulations (of course), and you must use them within four years, and they can't be used to buy tickets for events at venues owned or operated by AEG, a promoter that directly competes with LiveNation, Tickemaster's parent company.
A website was set up by Ticketmaster through GCC—a provider of legal administration services for class action settlements—is at TicketFeeLitigation.com. That site states that vouchers will automatically be sent to ticket purchasers that are part of the suit. The site also has options to update a previously used email address to a current one and to opt out of the suit altogether.
The issue was not the fact that Ticketmaster was profiting from the processing fees the company charges, but that this was not noted on the website. In fact, the company will be able to continue to do so as long as there is a notice on the site.
In the Frequently Asked Questions section of the site, the question "How are ticket prices determined?"—which was updated on November 16—states that the portion of the total ticket price (including fees) kept by Ticketmaster can be used, in part, by the company to "earn a profit," along with other revenues.
The original class action suit was filed in October 2003, and includes a four-year redemption period that won't begin any earlier than April of next year. For each of those four years that less than $11.25 million is claimed by customers, Ticketmaster will donate the rest to charity.
In addition, the company could face charges of up to $16.5 million in attorneys' fees and expenses, as well as $20,000 for the two plaintiffs who originally filed the class action suit.