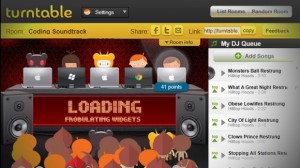 It's a known fact that social media sites are a rampant and very popular portion of the internet. The same can be said for music sites, though the copyright laws that govern these sites often can limit their usage. Now that web start-ups are racing to see who will be the first to successfully combine these two types of websites, a possible leader may be emerging.
Not even half a year old (or even out of beta mode), Turntable.fm is becoming one of the most buzzed about sites on the internet. The site's popularity stems from its simple concept that allows users to play music for other users and comment on songs being played. Here's how it works:
Similar to chat rooms, users begin with a list of rooms usually classified by genre ("Indie While You Work" and "mashup.fm" are examples). Once in the room, up to five DJs take turns playing songs of their own choosing, while users in the room can listen to the songs and rate what they think of the song—"Awesome" or "Lame." DJ's earn points each time a song they play receives an "Awesome" rating and can use points to "buy" new avatars for themselves. Additionally, all users can utilize a chat feature that allows everyone to comment on the songs being played.
The songs users play come from either uploads by the user, or by searching a music cloud operated by MediaNet. What makes Turntable.fm unique is that it has no licensing deals with any music labels, instead operating under a facet of the U.S. Digital Millennium Copyright Act (DMCA) known as a "noninteractive" webcaster. Instead, the service just pays music owners a flat fee every month for each song streamed (similar to internet radio websites).
While Turntable.fm can be described as an interactive site for its users, the "noninteractive" label comes from the site complying with certain stipulations that actually cater to the goal of the site. For instance, you can't play a song in a room when you are the only user in a room, there's a limit to how many times you can play songs by a certain artist per hour, you can't see the next song that will be played and all artist information (song name, album name, band name) must be displayed each time a song is played.
Complying with these guidelines allows the site to avoid obtaining licenses with labels to play these songs, though it remains to be seen if the labels will come after the site, claiming that it is in violation of the DMCA.
Compared to other currently popular cloud services, Turntable.fm most closely resembles Apple's iCloud, in that users don't have to upload their own music (as opposed to Amazon and Google's clouds, where users have to take the time to upload any music they want into the cloud from their hard drives). A risk for Turntable.fm is that Apple is the only one of those three with licensing deals with the major labels.
Turntable.fm is currently still in beta mode and is accessible by invitation only. However, if you have a Facebook friend already using the service, you will be able to join by logging in via Facebook.